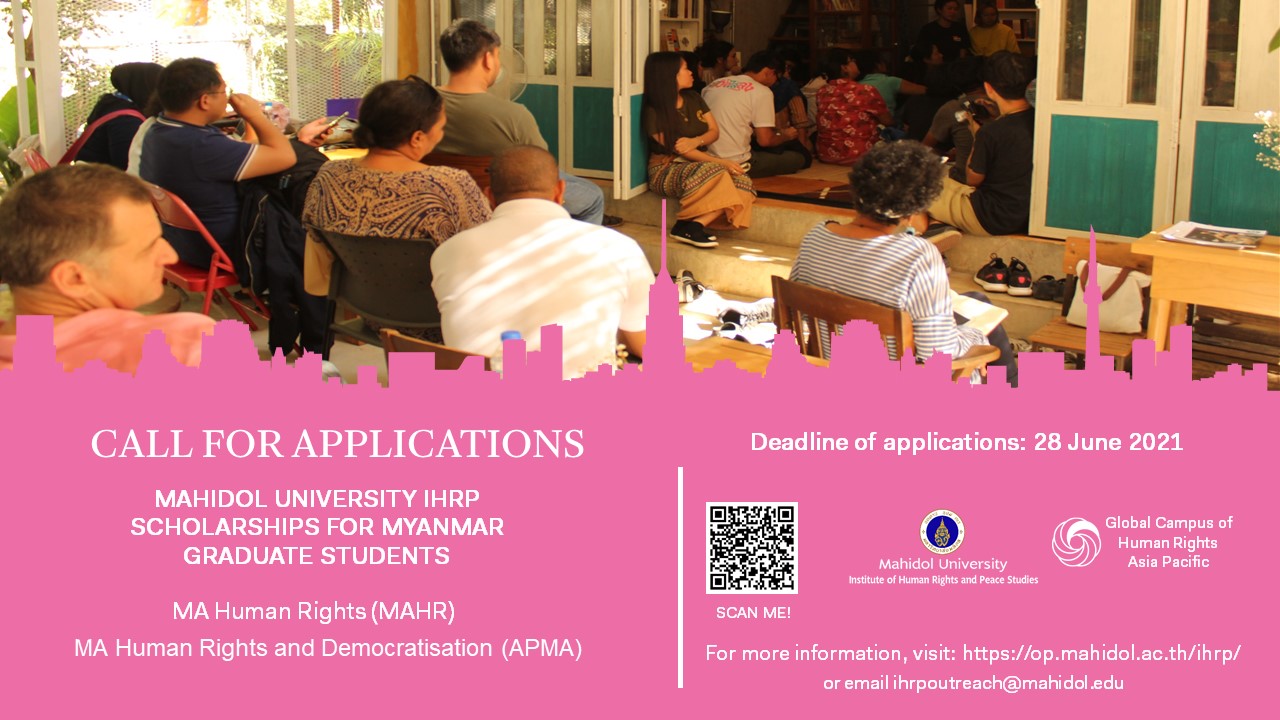 Mahidol University, in cooperation with the Global Campus of Human Rights Asia Pacific, is pleased to offer scholarships for twenty (20) Myanmar graduate students who will study at Mahidol University's Institute of Human Rights and Peace Studies under one of the following master's programs:
MA Human Rights—MAHR
This program is entirely based at Mahidol University campus. Students will study for two semesters at Mahidol IHRP from August 2021 till May 2022. Students will undertake research and write a thesis which will count towards the graduation and being awarded the MA degree. A description of the MAHR program can be found here.
MA Human Rights and Democratisation—APMA
This program is based at IHRP Mahidol University for the first semester (August – January 2022). Students then study second semester at one of the partner universities Ateneo de Manila University (Philippines), Gadjah Mada Unviersity (Indonesia), Kathmandu School of Law (Nepal), and the University of Colombo (Sri Lanka) from February till July 2022. Students will research and defend a thesis at the partner university. A description of the APMA program can be found here.
ELIGIBILITY
To be eligible for scholarship, applicants must:
Hold a bachelor's degree in any field. Students in the last year of undergraduate studies can apply provided they can produce evidence that they expect to graduate before 31 July 2021;
Have proof of English proficiency or be able to pass submit this proof before the start of the academic year;
Experience or interest in human rights, democracy, and peace studies an advantage but not required;
HOW TO APPLY
To apply for the scholarship, applicants must submit the following documents:
Application form DOWNLOAD APPLICATION FORM
Curriculum vitae
Personal statement
Research concept note
Academic records: certificate of graduation and official transcript of bachelor's degree
English language test certificate
Scanned copy of passport
Two letters of recommendation DOWNLOAD REFERENCE FORM
We recognize the difficulties in acquiring all the documents for your application, particularly if you are currently residing in Myanmar. Details about applying without these documents are given in the Application form. If you have concerns regarding this, please email ihrpoutreach@mahidol.edu to discuss the situation.
Application form
Applicants must answer the application form clearly and completely and must be signed (e-signature is accepted). Unsigned application forms will not be accepted. DOWNLOAD APPLICATION FORM
Curriculum vitae
Your CV or resume should be no more than two pages long. A separate list of publications may be included if available but should not be more than one page long.
Personal statement
Your personal statement will ideally be maximum 800 words. It should include a brief background about you, why are you applying for the program, why you are suited for the program, and how studying in this program will help in realizing human rights, peace, and development in Myanmar.
Your personal statement should be written in a clear, concise, and engaging manner.
Research concept note
Your research concept note should be no more than 800 words (excluding references). It should ideally indicate your proposed research topic and research questions, why you think this topic is important, your proposed methods and data sources, a brief literature review, and your conceptual framework.
Academic records
This should include scanned copies of your official bachelor's transcript and diploma or certificate of graduation/completion in English. If you have already taken classes or graduated from a master's program, please include those, too.
All transcripts and diplomas or certificates of completion/graduation must be in English. If your original copies are not in English, they must be translated into English and must bear the stamp of your university or an official translator.
If you are still in the process of completing your degree program, you may send us an official interim grade report/true copy of records and a certificate of enrollment confirming your current student status. The certificate of enrollment should ideally include your expected date of graduation.
If there are difficulties in obtaining copies of your academic records, please indicate them in the application form. If you cannot attach official transcripts at this time, grade reports which relate to your undergraduate education may be provisionnaly acepted, subject to the decision of the Selection Committee.
Proof of English proficiency
You will have to demonstrate proficiency in English by submitting standardized English test scores. Please provide a copy of one of the test scores below.
IELTS Academic with a score of 5.0
TOEFL Internet-based Test (IBT)/ iBT Home Edition with a score of 64
MU Grad Plus score of 70
English language proficiency test should have been taken within two years prior to the commencement of the First Semester of the academic year you are planning to enrol in (i.e., test should have been taken August two years before at the earliest). Test scores must be valid until 15 August of the academic year you wish to enroll as a student.
We understand that it may be difficult to obtain an English proficiency exam results at the present time. You can still apply for the program and scholarship if you have not passed exam. Applicants without English proficiency exam results will be interviewed by the selection committee before being offered a position. The Selection Committee may decide to accept you without the necessary Eenglish exam score and instead ask you to do either of the following: a) undertake the exam in Thailand or b) take graduate English classes while undertaking your MA degree. Please note that additional costs for English class enrollment will NOT be covered by the scholarship.
Copy of Passport
You will need to submit a scanned copy of your passport. The passport must be valid at least until 12 months after registration.
Letters of Recommendation
You must have two confidential letters of recommendation for your application. Reference persons must use the prescribed reference form for their recommendation letters.  The recommendations must be written in English. DOWNLOAD REFERENCE FORM
The letters must be sent through email by the signatories separately from your application documents. It will be your responsibility to ensure that your referees submit their recommendation letters on or before the deadline of application. Late recommendations will not be accepted.
SCHOLARSHIP BENEFITS
Full tuition and other fees
Monthly stipend
Travel allowance
Overseas health insurance coverage
Please submit all documents in pdf format to ihrpoutreach@mahidol.edu. The deadline for application is 28 June 2021. 
Subject of email should be: MU-IHRP Myanmar Application__YOUR NAME.