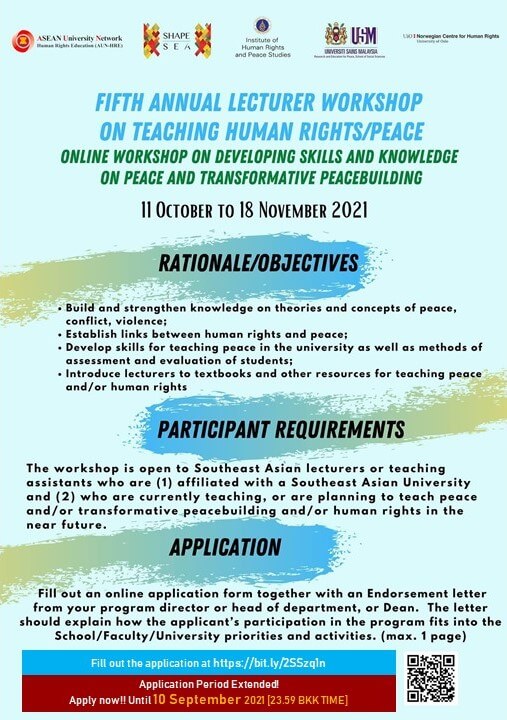 SHAPE-SEA, through ASEAN University Network-Human Rights Education (AUN-HRE) in cooperation with the Institute of Human Rights and Peace Studies (IHRP), Mahidol University and the Research and Education for Peace (REPUSM), Universiti Sains Malaysia are pleased to announce the call for participants for the Fifth Annual Lecturer Workshop on Teaching Human Rights/Peace: Developing Skills and Knowledge on Peace and Transformative Peacebuilding.
This online workshop aims to develop lecturer skills and knowledge for teaching peace and transformative peacebuilding (which linkage to human rights) at the undergraduate and graduate level.
The workshop is open to Southeast Asian lecturers or teaching assistants who are (1) affiliated with a Southeast Asian University, (2) who are currently teaching, or are planning to teach peace and/or transformative peacebuilding and/or human rights in the near future.
Workshop Dates (online): between 11 October – 18 November 2021
Deadline for Application: 25 August 2021
For more detail and online application form, please visit https://shapesea.com or click https://bit.ly/2SSzq1n
Successful candidates will be informed by mid of September 202