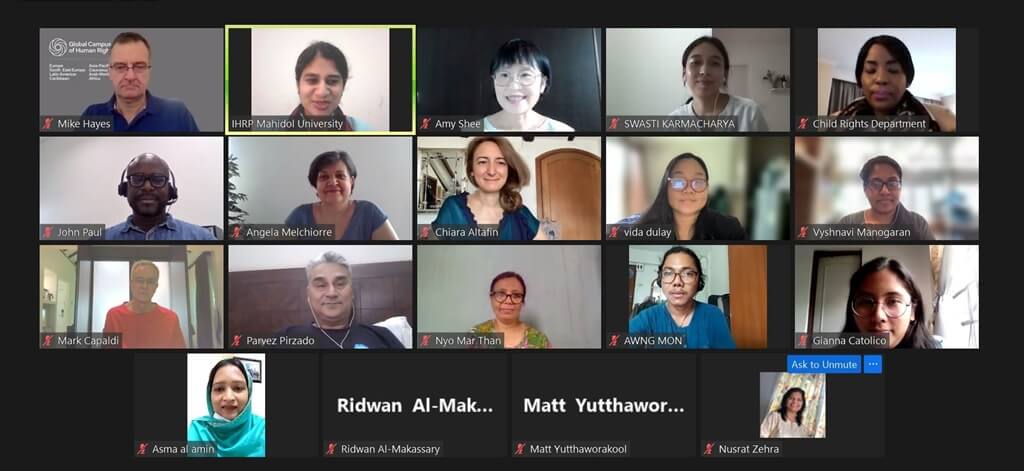 As part of the education and training on child rights research, the Institute of Human Rights and Peace Studies (IHRP), Mahidol University, Thailand is organizing an online international children's rights research ethics forum on Wednesday 29 June 2022, CET 9.00 am -12.00 pm
Thailand time 14 pm-17 pm.
This event is one of the activates incorporated through the collaboration among the Global Campus of Human Rights (GC), the Rights Livelihood Foundation (RLF) and the Institute of Human Rights and Peace Studies (IHRP), Mahidol University, Thailand.
Around 50 students, lecturers and children's rights experts from 40 different universities in Asia, Europe and Africa have registered for this forum. As the regional hub, IHRP also gathers together representatives from partner universities in Asia Pacific such as the Kathmandu Law School, Nepal, University of Colombo, Sri Lanka, Ateneo De Manila University, Philippines, and Universitas Gadjah Mada, Indonesia.
The forum is facilitated and moderated by three distinguished academics- Dr. Amy Huey-Ling Shee, Professor, Department of Law from National Chung Cheng University, Taiwan; Dr. Mike Hayes and Dr. Mark Peter Capaldi from IHRP Mahidol University.
The goal of this event is to support and improve the knowledge and understanding on ethical issues and standards in academic research and advocacy on children's rights within the Global Campus university network. This forum is bringing together academics, students and experts to consult on ethical issues while researching and working on/with children. This forum offers an opportunity to learn and share knowledge and critical feedback on research ethics from child rights researchers and scholars. The forum intends to discuss the debates surrounding ethical issues in children rights research, the emerging concept of rights-based research, challenges and benefit of ethical guidelines and gaps in ethical & rights-based training for emerging researchers.