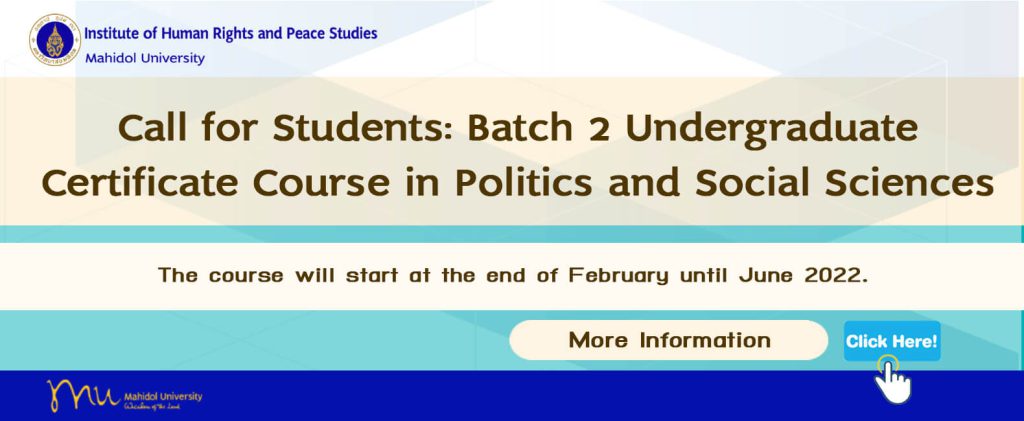 Institute of Human Rights and Peace Studies (IHRP), Mahidol University, in coordination with Yangon School of Political Science (YSPS) and HRERP, is opening applications for Myanmar students who have a strong interest pursuing in extracurricular studies at certificate level during 2021-2022. The courses offered target undergraduate academic level encompassing the courses of social and political sciences.
The Online Certificate Course is designed and developed by Professors and Senior Lecturers of the IHRP and YSPS in collaboration with HRERP. The course is blended with pre-recorded lectures and live discussions. Each course is the equivalent of a second or third year undergraduate academic course of 3 credit points.* The students need to dedicate around 6-8 hours on weekly basis with additional self-study for class preparation over 5 months. To graduate from the course students must pass the necessary assessment. Upon graduation students will receive a certificate from IHRP, Mahidol University and YSPS.
*Mahidol University and YSPS cannot guarantee these courses can be converted into credit points at other universities, though they will be the equivalent of ASEAN 3 credit point courses, or 5 ECTs.
The course will start at the end of February until June 2022.
The courses are intended for students who would like to significantly enhance their knowledge in political and social science studies.
Costs: There are no costs to enroll in the course, students that are successful in their application will receive support for accessing internet and printing allowance. Students shall however have their own device which can download and read documents and videos (PDFs files and mp3 files)
Who can apply:
Applicants must
Have been a student at a Myanmar University any time since the 2018 academic yea
Or
Have graduated high school in 2019 or 2020 within the age of 16 to 21 year-old
Applicants who are not selected in Batch 1 are encouraged to re-apply
Requirement:
Students must attend at least 80% of classes. If they are absent for three classes in a row they will need to withdraw (but can reapply and complete for the next semester)
Note
Preference will be given to current university students
Preference will be given to
Application process:
Applicants can send their applications directly to Applications.Ysps@gmail.com by filling google application form at: https://forms.gle/Mzi1a7XHhqWXBMjv8
For more information and clarification, kindly contact to Applications.Ysps@gmail.com
The application deadline is on 10 February 2022.
Only successful candidates will be informed through email or phone no later than 24 February 2022.