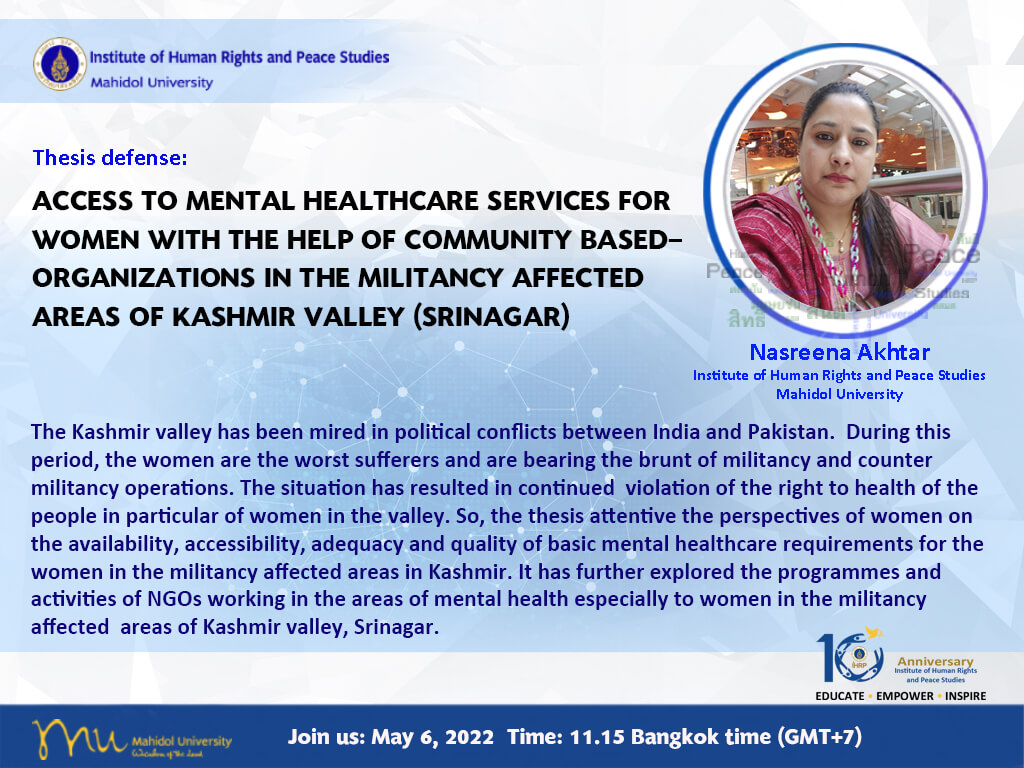 Date&Time
May 6, 2022 11:15 (Bangkok time)
Join us
Register in advance for this Zoom meeting:
https://zoom.us/meeting/register/tJEkcO2pqjsqGtXBvD1PSlpi_wf3IL4_4yzA
After registering, you will receive a confirmation email containing information about joining the meeting.
Thesis title: ACCESS TO MENTAL HEALTHCARE SERVICES FOR WOMEN WITH THE HELP OF COMMUNITY BASED-ORGANIZATIONS IN THE MILITANCY AFFECTED AREAS OF KASHMIR VALLEY (SRINAGAR)
The Kashmir valley has been mired in political conflicts between India and Pakistan. During this period, the women are the worst sufferers and are bearing the brunt of militancy and counter militancy operations. The situation has resulted in continued violation of the right to health of the people in particular of women in the valley. So, the thesis attentive the perspectives of women on the availability, accessibility, adequacy and quality of basic mental healthcare requirements for the women in the militancy affected areas in Kashmir. It has further explored the programmes and activities of NGOs working in the areas of mental health especially to women in the militancy affected areas of Kashmir valley, Srinagar.