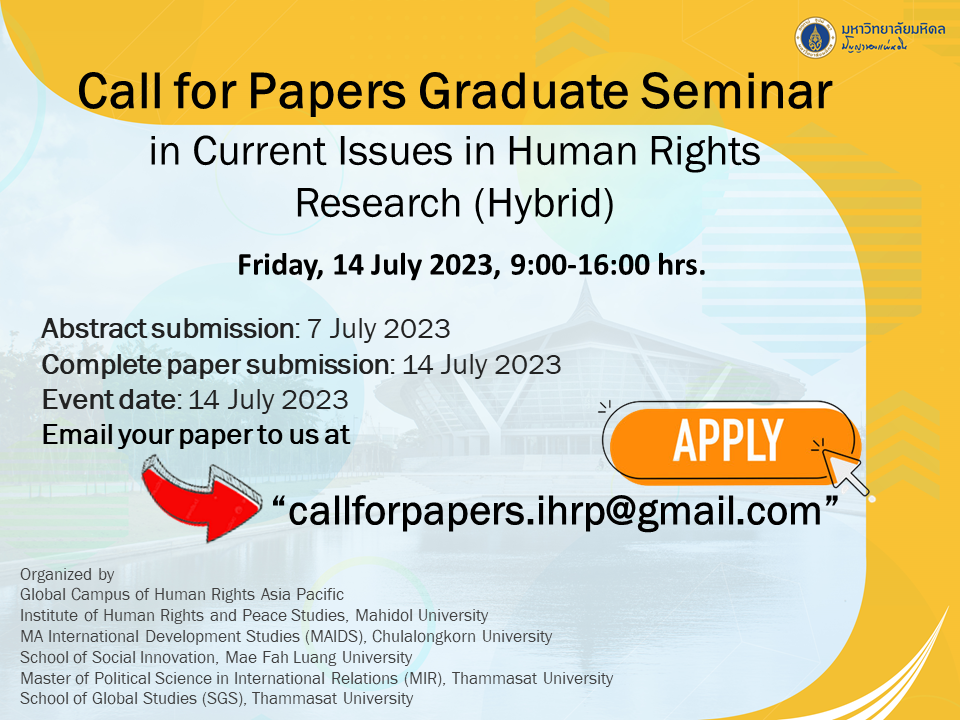 Organized by
Global Campus of Human Rights Asia Pacific
Institute of Human Rights and Peace Studies, Mahidol University
MA International Development Studies (MAIDS), Chulalongkorn University
School of Social Innovation, Mae Fah Luang University
Master of Political Science in International Relations (MIR), Thammasat University
School of Global Studies (SGS), Thammasat University
Friday, 14 July 2023, 9:00-16:00 hrs.
IHRP, Panyaphiphat Building, Mahidol University, Salaya Campus
A graduate student seminar will be held at Mahidol's Institute of Human Rights and Peace Studies, and co-hosted by MA International Development Studies (MAIDS), Chulalongkorn University, School of Social Innovation, Mae Fah Luang University, Master of Political Science in International Relations (MIR), Thammasat University, School of Global Studies (SGS), Thammasat University. The seminar will examine current research in the area of human rights, politics, and development in Asia. The seminar will be a venue to discuss recently undertaken research by graduate students, faculty members and public intellectuals.
Instructions for Presenters
To present at the Current Issues seminar students must submit the title of their paper to the conference organizers (detailed below) by July 7, 2023.
For the seminar students must do the following:
1. Students must prepare a 15 minute (max) presentation.
2. The presentation format will be panels of three to four papers (15 minutes each) followed by 10 minutes of discussion. Panels will be 90 minutes long.
3. Presentations must be on research findings, and not research proposals, of your thesis
4. Students will submit a paper of 2,000 words within two weeks of the presentation. This will be included in an online, peer reviewed conference proceeding.
Note: Presentation and submission of a written paper will meet the publication requirements for graduate students studying.
Please submit your abstract to: callforpapers.ihrp@gmail.com including this Information:
Abstract in Word format of no more than 300 words.
Applicant Name
Degree and University of the student
Title of the proposed paper
Contact address (email and social media contact).