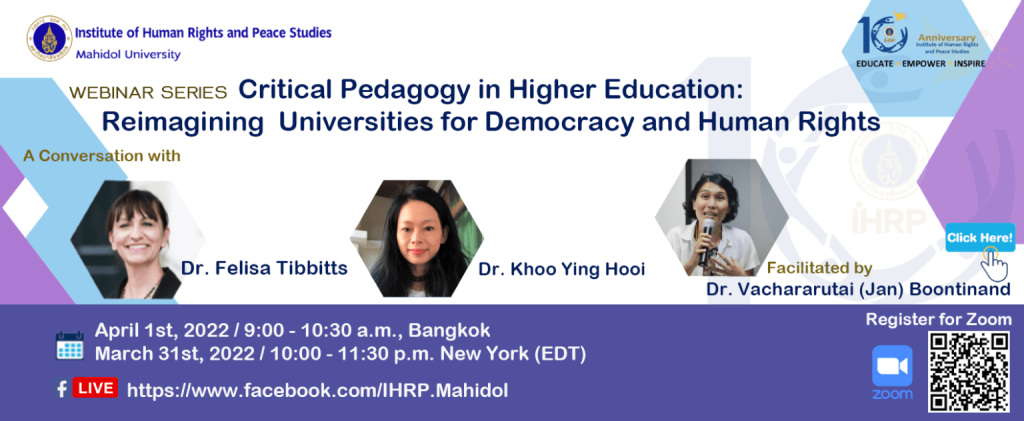 Link for registration : https://bit.ly/3quvVvq
A webinar on "Critical Pedagogy in Higher Education: Reimagining Universities for Democracy and Human Rights"
We live in the world that is more interconnected and complex than ever before. We also live in the times when democracy seems to be no longer delivering what it has promised. The majority of countries today have adopted democratic form of government, yet we witness growing intolerance, violence, and injustice in different parts of the world. In advanced liberal democracies, inequality and economic stagnation have challenged the political legitimacy of governments and paved ways for new forms of nationalism and populism. In fragile democracies, including Thailand, there are on-going conflicts rooted in discontent and the mistreatment of minority populations. The country has also witnessed an ideological divide manifested in widespread expressions of hatred via onlinemedia and physical violence against people with different views.
It is expected that education should cultivate knowledge, values, attitudes and skills to enable "all persons to participate effectively in a free society" and promote respect and understanding of cultural identity, language and values; peace, tolerance, equality of sexes and friendship among all peoples, ethnics, national and religious groups and persons of indigenous origin. Higher education in particular should play a role inpromoting and protecting democracy and human rights. There are a number of actions that can be taken by universities and institutional leaders toward that end. This webinar focusesspecifically on teaching and the role of critical pedagogy in enabling cultural change. Henry Giroux posits that "critical pedagogy, unlike dominant modes of teaching, insists that one of the fundamental tasks of educators is to make sure that the future points the way to a more socially just world, a world in which the discourses of critique and possibility in conjunction with the values of reason, freedom and equality function to alter, as part of a broader democratic project, the grounds upon which life is lived". However, it can be argued that the transmission or the 'banking' model of education is widely practiced in higher education especially in the Asian context.
Against the backdrop of a changing educational landscape resulting from the pandemic as well as democratic backsliding, this webinar will engage in a conversation with two scholars, Dr. Felisa Tibbitts from Teachers College of Columbia University who is also UNESCO Chair of Human Rights and Higher Education at the Faculty of Law, Governance and Economics, University of Utrecht; and Dr. Khoo Ying Hooi, Head of the Department of International and Strategic Studies, Faculty of Arts and Social Sciences, and also Head of University of Malaya Research Group on Human Rights.
Some of the questions we will explore include:
1. What does critical pedagogy entail for our speakers or in their respective contexts, and how it has been incorporated into teaching & learning in their classrooms/campus education?
2. How can critical pedagogy enable education for democracy and human rights, especially in the context of higher education?
3. What are the prospects and challenges for critical pedagogy in higher education and how might we overcome them?
The session will be facilitated by Dr. Vachararutai (Jan) Boontinand, Director of the Institute of Human Rights and Peace Studies, Mahidol University.
Date: 1 April 2022 (9:00-10:30 am Bangkok time; 31 March 2022 (10:00-11:30 EDT)
This webinar session is part of a webinar series to celebrate the 10th Anniversary of the Institute of Human Rights and Peace Studies, Mahidol University.