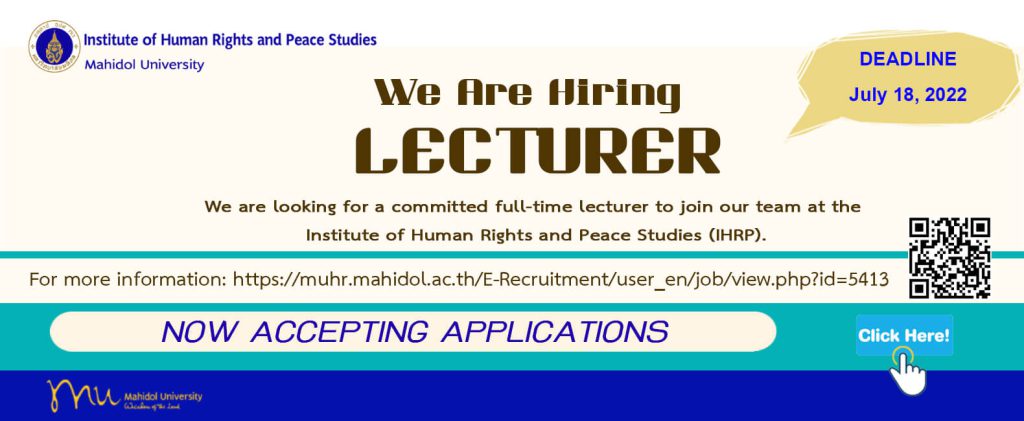 ocated in the west of Bangkok, the Institute of Human Rights and Peace Studies (IHRP) at Mahidol University is the leading Asian institution in its field. Now celebrating its tenth university, the IHRP forms part of the applied social sciences at Mahidol, which also includes, e.g., institutes working on public health, demography, and the languages and cultures of Asia.
The IHRP currently offers four graduate programs:
The Institute now invites applications for the position of a full-time international faculty member. The opening provides an excellent opportunity for an academic who wants to engage in research and teaching with human rights and peace practitioners in the Asia-Pacific region. We are particularly interested in a scholar working on human rights from interdisciplinary perspectives and addressing emerging issues in human rights and peace in Asian contexts.
The successful candidate will receive a one-year contract that is, upon satisfactory performance, renewable for a longer term.
We look forward to your application if you recognize yourself in the following profile:
You have a credible research and publication agenda in human rights and/or peace studies. Ideally you have already one or more publications on record.
You are keen to start advising and co-advising master's and Ph.D. students.
You enjoy actively contributing to academic life.
You are willing to work on capacity and institution building in the service of human rights and peace.
In teaching, research, and academic service, you pursue an approach both creative and disciplined and prize solid craftsmanship.
In addition to a locally competitive salary with benefits and end-of-employment severance payment, we offer our new colleague:
One of the most diverse academic environments worldwide
Very good library resources at Mahidol University and two other major research libraries located within commuting distance and linked with Mahidol through an interlibrary-loan system
Generous financial rewards by Mahidol University for publications in leading journals
University support for international conference trips and professional development
A teaching load of two to three courses per academic year
Professional development opportunities such as teaching workshops
A very wide network of regional and global partners, including the Global Campus of Human Rights and SHAPE-SEA
An attractive location on the outskirts of the global city of Bangkok, a regional hub for international organizations and international NGOs
A beautiful, in places downright enchanting, campus
Free admission to the regular performances of the Thai Philharmonic Orchestra at Prince Mahidol Hall, one of Southeast Asia's foremost concert halls
Access to on-campus sports facilities at special faculty rates
Please find the application process details at Mahidol University E-Recruitment. Review of applications will start on 19 July 2022.
Further queries: bencharat.sae@mahidol.ac.th