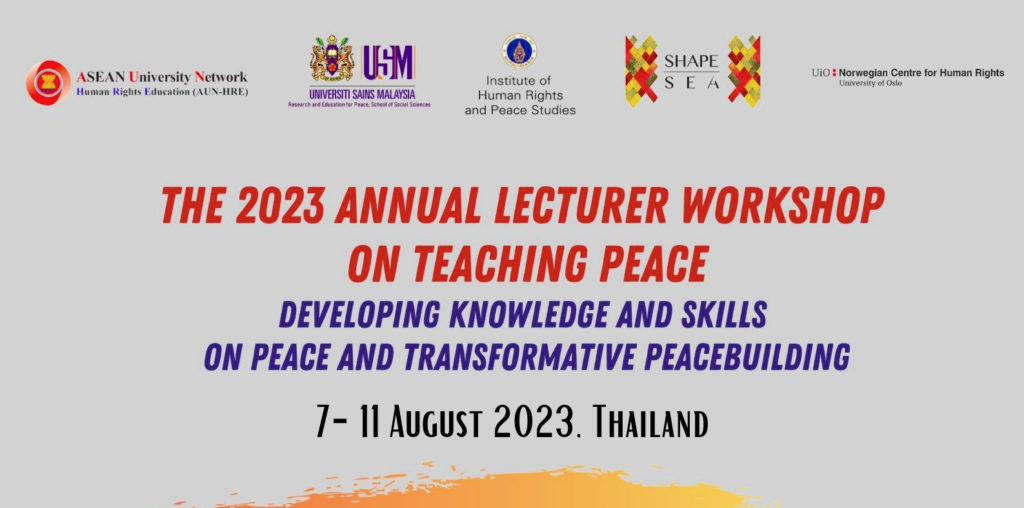 ASEAN University Network-Human Rights Education (AUN-HRE) in cooperation with the Research and Education for Peace (REPUSM), Universiti Sains Malaysia, Institute of Human Rights and Peace Studies (IHRP), Mahidol University and Strengthening Human Rights and Peace Research and Education in ASEAN/ Southeast Asia (SHAPE-SEA) with support of the Norwegian Centre for Human Rights at the University of Oslo is pleased to announce the Call for Applications for the 2023 Annual Regional Lecturer Workshop on Teaching Peace: Developing Knowledge and Skills on Peace and Transformative Peacebuilding.
The workshop will be held onsite in Bangkok, Thailand between 7 – 11 August 2023.
The workshop aims to develop knowledge and skills of lecturers for teaching peace and related subjects at the undergraduate and graduate level.
Southeast Asian lecturers or teaching assistants who are (1) affiliated with a Southeast Asian University, (2) who are currently teaching, or are planning to teach peace and related subjects in the near future, are eligible to apply for participation in the workshop.
Key Dates:
25 May 2023 (23:59 GMT + 7 Bangkok Time) – Last Date for Submission of Applications
6 June 2023 – Notification of Acceptance
7 – 11 August 2023: Dates of the 2023 Annual Regional Lecturer Workshop on Teaching Peace
More details can be found in the Call for Applications document attached!