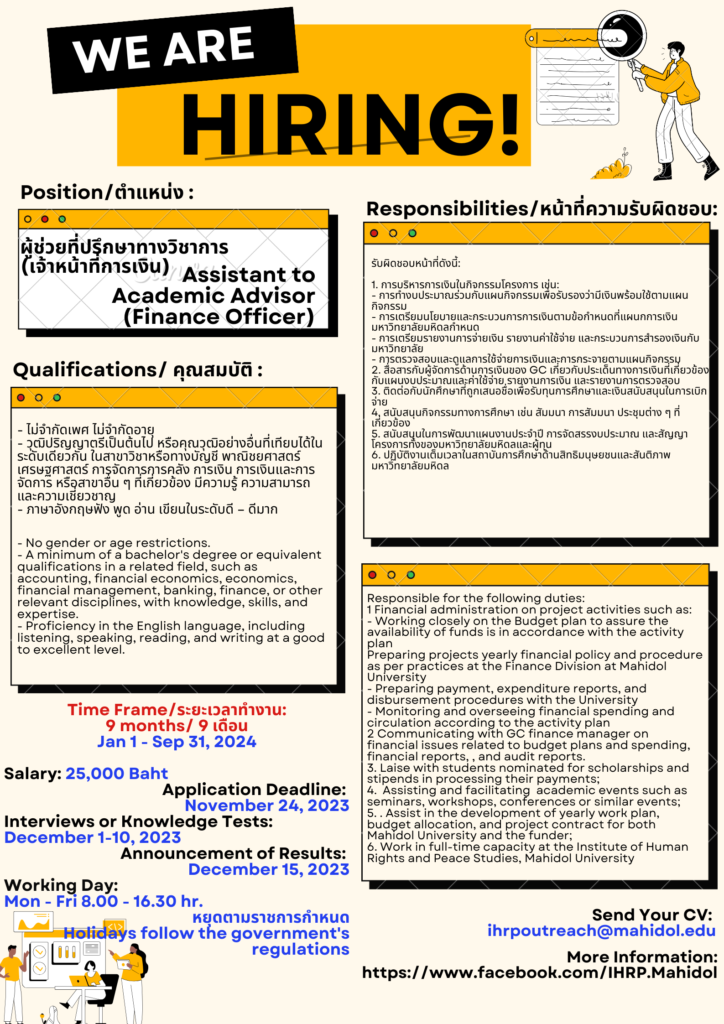 RLF-APMA Hiring
Position: Assistant to Academic Advisor (Finance Officer)
Qualifications:
– No gender or age restrictions.
– A minimum of a bachelor's degree or equivalent qualifications in a related field, such as accounting, financial economics, economics, financial management, banking, finance, or other relevant disciplines, with knowledge, skills, and expertise.
– Proficiency in the English language, including listening, speaking, reading, and writing at a good to excellent level.
Responsibilities:
Responsible for the following duties:
1 Financial administration on project activities such as:
– Working closely on the Budget plan to assure the availability of funds is in accordance with the activity plan
Preparing projects yearly financial policy and procedure as per practices at the Finance Division at Mahidol University
– Preparing payment, expenditure reports, and disbursement procedures with the University
– Monitoring and overseeing financial spending and circulation according to the activity plan
2 Communicating with GC finance manager on financial issues related to budget plans and spending, financial reports, and audit reports.
3. Laise with students nominated for scholarships and stipends in processing their payments;
4. Assisting and facilitating academic events such as seminars, workshops, conferences, or similar events;
5. Assist in the development of yearly work plan, budget allocation, and project contract for both Mahidol University and the funder;
6. Work in a full-time capacity at the Institute of Human Rights and Peace Studies, Mahidol University
Financial Reports:
– Interim period (August 2023 – January 2024)
– Final period (February – July 2024)
– Audit report due in October (yearly)
Financial policy and procedures as per the Practices and Regulations required by the Mahidol Finance Division
Time Frame:
9 months between January 1, 2024, and September 31, 2024, with the possibility of renewal based on the performance and availability of project funding;
Salary: 25,000 Baht
Application Deadline: November 24, 2023
Interviews or Knowledge Tests: December 1-10, 2023
Announcement of Results: December 15, 2023