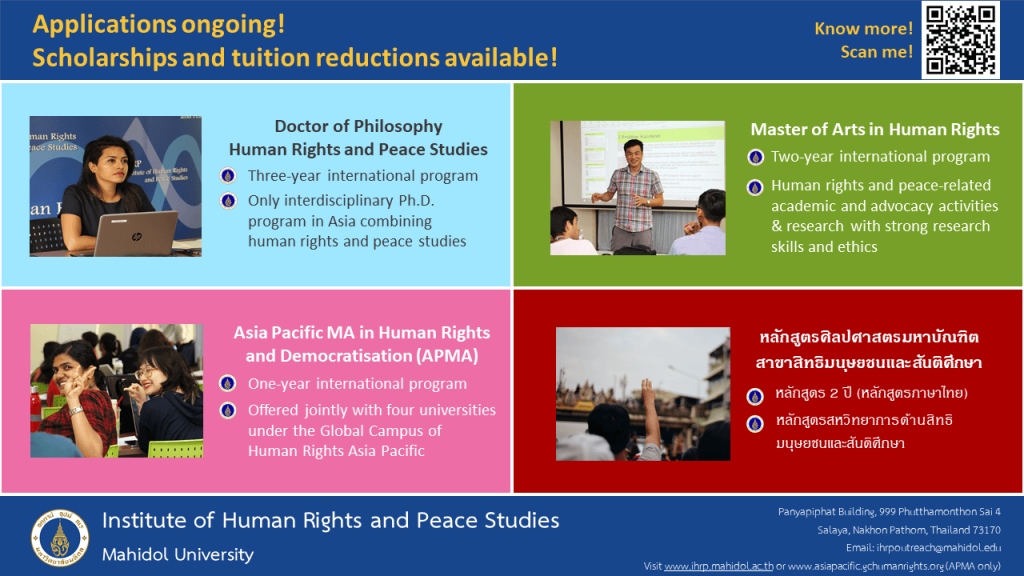 The Institute of Human Rights and Peace Studies (IHRP), Mahidol University is now accepting applications for international and Thai-language graduate programs in human rights, democratisation, and peace studies. Scholarships and tuition reductions are available.
For more information, visit https://ihrp.mahidol.ac.th/ or https://asiapacific.gchumanrights.org (for APMA program only).
For inquiries, please email ihrpoutreach@mahidol.edu (for international programs) or ihrphrps@mahidol.ac.th (หลักสูตรไทย).
‍Ph.D. Human Rights and Peace Studies (International)
https://bit.ly/3rGzZYm
‍MA Human Rights (International)
https://bit.ly/2YK8CRe
‍MA Human Rights and Democratisation (International)
http://bit.ly/2PVFnsv
‍MA Human Rights and Peace Studies (Thai)
http://bit.ly/3bCZDHy