The Institute of Human Rights and Peace Studies (IHRP) began with the joining of two organizations at Mahidol University, Thailand.
The Center for Human Rights and Social Development (CHRSD) was established in 1998, with a vision to provide human rights education not only to post graduate students, but also to train human rights workers, activists and defenders, members of civil society organizations and government officials. By providing education and training to various stakeholders involved in the pursuit of human rights, CHRSD established an academic and practical dialogue on human rights in the region. The MA in Human Rights program offered by the CHRSD (and now by IHRP) is the longest running graduate degree program in Human Rights in Asia.
The Research Center for Peacebuilding (RCP) was founded in 2004, to be an active participant in finding peaceful solutions to conflicts in Thailand, particularly those in the Deep South. RCP focused on participatory research projects to develop cooperative efforts to deal with conflicts, and identify the needs of communities living in conflict.
The CHRSD and the RCP combined their expertise in education and research, with their common focus on active engagement with the community, to form the Institute of Human Rights and Peace Studies. Our vision is to play a leading role in Academic Enquiry and Practical Wisdom in Human Rights and Peace building.
---
"IHRP creates a very healthy and open academic environment. The people in IHRP are also very diverse and accommodating." 
– Abel, MHRD student from Malaysia
---
"Studying Human Rights at IHRP, was the most unique and rich experience one can ever have. Studying at IHRP, was being surrounded by a really green and relax environment with a lot of secret places suitable to start hours of discussion about human rights issues around a Thai green tea." 
– Anais, MHRD student from France
---
"There are so many great things about IHRP. But what I like the most about IHRP is that we don't just learn about Human Rights and Democratization, we practice and exercise it everyday there. IHRP creates a fair and encouraging as well as respectful environment for everyone to learn and practice. And by everyone, I mean every single one." 
– Huong, MHRD student from Vietnam
---
Studying Human Rights in Thailand
In last year's master's level classes we had students from over 25 different countries coming to study at IHRP. Studying human rights in Thailand provides these students with a wider perspective on human rights issues around the world. Having the scope to compare situations and responses in different countries gives us a wider understanding of issues we may face working in the future.
Studying human rights in Thailand also provides our students with insights into human rights, peace and democratisation work on the ground, and IHRP always maintains strong links with local NGOs and civil society organisations, providing workshops and events which our students are also encouraged to attend.
Bangkok is the regional hub for many human rights organisations including UNHCHR, Amnesty International, Human Rights Watch and International Rescue Committee. This working environment provides a strong base of both academic and field expertise around IHRP, ensuring that our students have a range of opportunities to pursue both during and after their studies.
IHRP has links with all of the major regional academic human rights networks. You can learn more about them here.
---
"I learnt a lot from studying in ASEAN countries. It is a different context and I was fortunate to learn from the ASEAN context and how they deal with human rights issues."
– Vai, MHRD student from Samoa
---
"Students can observe or experience what is going on in reality such as the right to freedom of expression, right to freedom of assembly."
– Laiza, MHRD student from Maldives
---
Mahidol University
Mahidol University is one of Thailand's oldest and most respected public universities, and the first to offer international courses over 30 years ago. Mahidol has repeatedly been named the number 1 university in Thailand by international ranking organisations including US News, QS and Times Higher Education.
The philosophy of the university's namesake H.R.H Prince Mahidol, "True success is not in the learning, but in its application to the benefit of mankind" can be seen in the research and civil society work of Mahidol University. The University has made recognised contributions to valuable Thai industries, produced world renowned research in human rights and conflict reconciliation, and shares links with over 100 other universities around the world.
The Mahidol University campus in Salaya, just outside Bangkok covers 520 acres with gardens, swimming pools, tennis courts, the Prince Mahidol Hall which hosts regular jazz and classical concerts from international and Thai musicians, and even a sustainable forest providing wood for the production of musical instruments. Mahidol tries to integrate student experience with socially conscious projects, for example Veterinary students provide care for sick and injured street dogs at the Salaya campus' dogs' home.
For more information about Mahidol University follow these links:
The facts and figures of Mahidol University.
Explore our archives and museums.
Learn about our facilities.
We are a research led university.
Read Spectrum, our international newsletter.
Research
Research is the basic of academic inquiry. Our responsibility as academics is not only to understand the theory and practice of human rights, but also to build upon these foundations for a better future. At IHRP our research is focused on important human rights and peace issues in Thailand and South East Asia, defined in the following themes:
Conflict Transformation in Thailand's Deep South
Politics, Democracy and Citizens' Participation
Rights to Natural Resource Management
Human Rights and Peace Networks in South East Asia
Human Rights and Peace Studies
Migration and Statelessness
Religion, Ethnicity and Diversity
Our individual faculty and researchers work on a range of topics and issues related to their areas of expertise, you can find out more about what they do here.
Our Work in the Community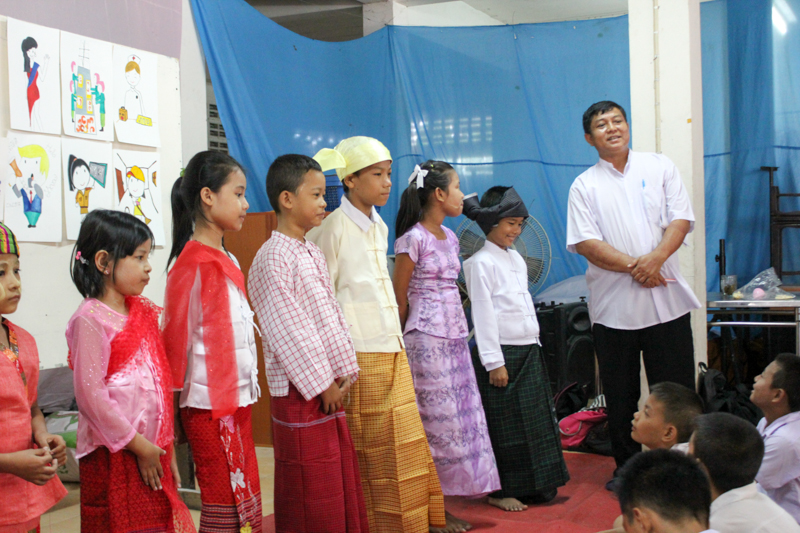 At IHRP we recognise that our expertise should not be separated from the local community. We have the ability to create real change in the lives of some of the most vulnerable people in our community, as well as support the work done by smaller organisations in Thailand and South East Asia. By working with civil society and NGOs, we also provide opportunities for our students to work on real projects, and gain practical insight into the issues Thailand faces.
Here are a few examples of how we help:
Providing education and support for the children of migrant workers in Thailand. The education focuses on human rights issues, particularly their rights as children. This work helps vulnerable children to understand the protections they are entitled to, and reduces the exploitation of migrant children and child labor in Thailand.
Producing textbooks and online courses for human rights aimed at ASEAN countries. For many years ASEAN nations have avoided providing human rights education to high school students as the necessary materials were not available. IHRP has worked closely with SHAPE-SEA to ensure that human rights can be taught at all levels in the region.
Organising capacity building for small organisations. Many small NGOs in Thailand do not have the resources to develop the skills of their staff. IHRP collaborates with many of the larger INGOs based in Thailand to provide training in areas such as e-security to their staff.
Training government staff in human rights. We work with local government to organise human rights training for officials working within the civil services.
Promoting peace in the deep south. Thailand's southernmost provinces have experienced a decades long conflict between the government, military and police, and local militant groups. IHRP organises events in these provinces where local people can come together in the name of peace.
Supporting human rights and democracy activists in Thailand. IHRP works to amplify the voices of Thai activists promoting democracy, the rule of law, and human rights through peaceful means.